Elizabeth Stuart, Queen of Bohemia, the Winterqueen
One of the more interesting inhabitants of The Hague was Elizabeth Stuart, daughter of king James VI of Scotland, later James I of England. She was born in 1596 and, when her father became king of England she moved with her parents to London. She was meant to marry a protestant, but there were not many suitable candidates. Most protestants princes were from minor German principalities and there were only a few protestant kings. The most suitable candidate was a compromise. Frederic (Friedricht) was to become Count Palatine of the Rhine, one of the Prince-electors in the German Empire. A few German princes elected the German emperor and he was the first in rank. The Count Palatine was also considered to be the leader of the Protestants in Germany.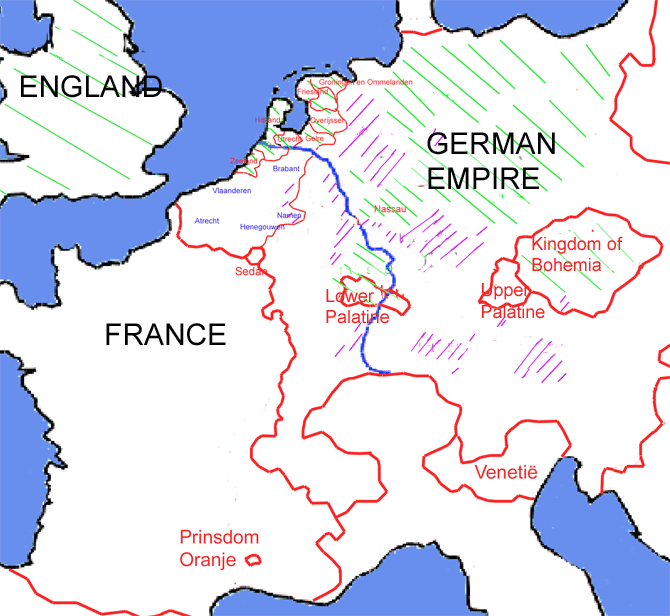 German Empire around 1600 with both the Palatines of Frederic and the Kingdom of Bohemia. Purple lines indicate catholic areas, green lines protestant areas. The seven republics that make up The Netherlands are shown with their Dutch names in the northern part of the Netherlands. The southern part is not conquered by the calvinist revolutionaries and still in the hands of their legitimate lord Philip.
Germany
When they married in 1613 in London they were very much in love with each other, but life in the German capital of Heidelberg proved to be rather dull for the adventurous English princess. As a protestant German princess she was not supposed to do things she liked to do like hunting and spending too much money. She did not mind the grumbling and even was dubbed the 'Pearl of Britain' and later the 'Queen of Hearts'. She was charming and could draw people. The famous garden in Heidelberg, the Hortus Palatinus, was one of her projects, but gardens were not exciting enough.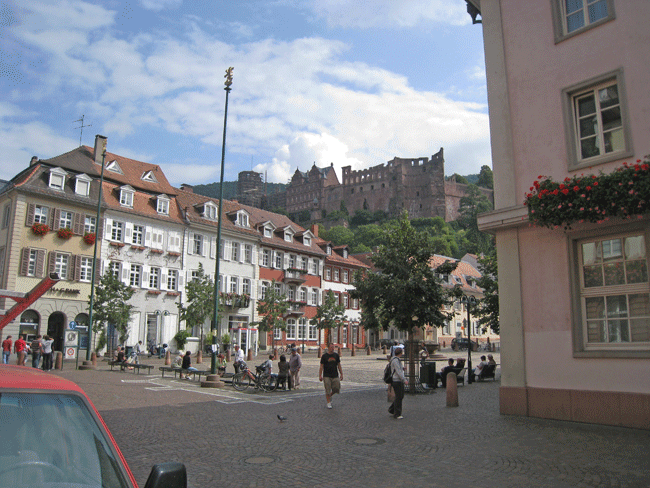 The palace of Frederic dominates the town of Heibelberg. His palace was almost completely destroyed, but one of their new quarters still exists.
After a few years an opportunity arose, when protestants in Bohemia were in search of a new king. The old king was deposed and they wanted a protestant as king. No prince seemed to be interested in such a dangerous venture, because everyone knew that catholic Germans would not allow a protestant to become king of Bohemia. If her husband Frederic accepted the proposal it would certainly become war with the catholic emperor and his allies. Frederic hesitated, because most people advised him to turn the offer down. One of the few who supported the idea was prince Maurice (Maurits) of the Netherlands. The Netherlands were at war with the most powerful catholic king, Philip of Spain, and Maurice liked to give Philip as much trouble as he could. He even prompted the governemt of The Netherlands to give sizeable financial aid for the Bohemian army.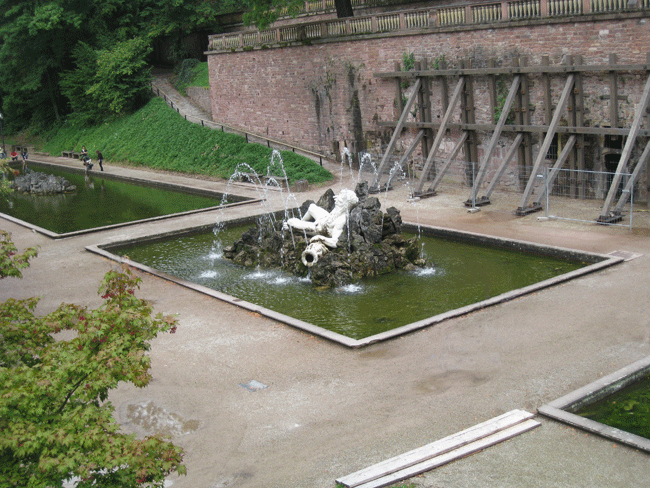 What is left of the famous Hortus Palatinus is still an impressive garden. Their are plans to restore the garden to its old splendour.
Bohemia
Frederic finaly decided to go to Bohemia. Elizabeth, although she expected a baby went with him. One of her admirers said: "What good man would not adventure his life, and run even in the face of death, such a lady going before, and marching in the front?". In Prague they were crowned king and queen of Bohemia. The catholic propaganda predicted that Frederic would be a 'winterking'. He would only last the coming winter. With financial backing of the Bavarian dukes, distant relatives of Frederic, the emperor amassed an army to invade Bohemia.
Frederic started to find allies and left Elizabeth alone in Prague. It was a long dull winter and she did not like the strictly Calvinist atmosphere in Prague. Afther the winter Frederic returned to Prague and they started to having a splendid time with parties and hunting. They probably did not have much else to do as their allies did come across with substantial aid. Next winter, the Bohemian army was defeated near Prague and Elizabeth and her family had to escape in a hurry. Frederic and Elizabeth had lost everything they had. They not only lost Bohemia, but also their homeland. The Palatine was invaded by a Spanish army, so they had nowhere to go. It proved difficult to find a refuge, because no German prince dared to oppose the emperor at this moment. Not even her father wanted to see Elizabeth. In the end, they found a hearty welcome in The Hague. They had not been merely Winterking and Winterqueen, but twelve royal months was not a long period either.
It is said that Elizabeth persuaded Frederic to go to Prague and she was to blame for their misfortunes, but in letters to Frederic she only wrote that she would support him if he went to Bohemia. She loved action, but she was bright enough to see the problems ahead. It was probably one of Frederics councellors who suggested in Prague that he would the right candidate for the Bohemian throne. Part of his lands bordered on Bohemia.
The Hague
Frederic was a relative of prince Maurice, commander-in-chief ot the Dutch army. Maurice had also sizeable political power and used it to advance the case of Protestantism. He incited Frederic to go to Bohemia, now he came to his aid. Both men wanted to recapture the Palatine from the catholic armies. The Dutch Estates-General provided a military escort to accompany them from Gemany to The Hague.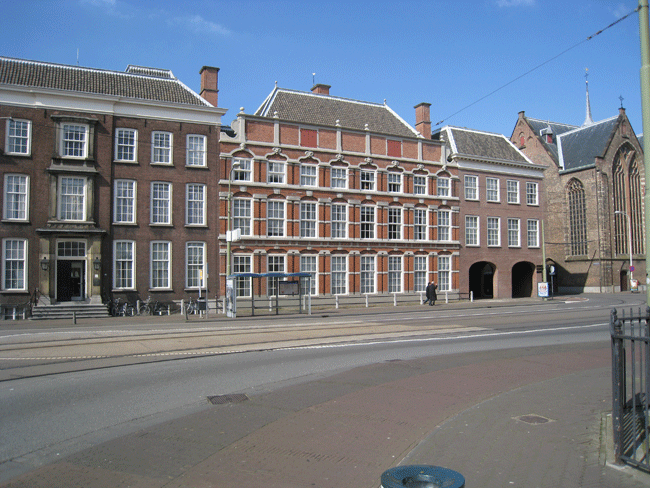 These buildings at Kneuterdijk formed the palace of Frederic V en Elizabeth Stuart.
(still in preparation, January 2010)